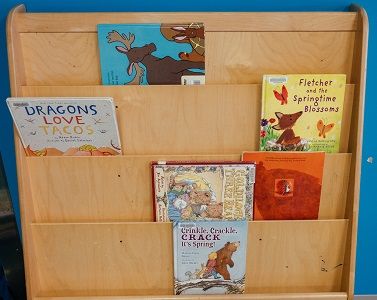 Our Head Start program is in need of new books for classrooms. Will you help? Following are just some specific titles our enrolled babies, toddlers, and preschoolers would love to have:
ABC Look at Me by Roberta Grobel Intrater
Can You Tell How Someone Feels? (Early Social Behavior Book Series) by Nita Everly
The Feelings Book by Todd Parr
Glad Monster, Sad Monster by Ed Emberley & Anne Miranda
The Grouchy Ladybug by Eric Carle
The Pout Pout Fish by Deborah Diesen
Happy and Sad, Grouchy and Glad by Constance Allen
My Many Colored Days by Dr. Seuss
On Monday When it Rained by Cherryl Kachenmeister
Proud of our Feelings by Lindsay Leghorn
See How I Feel by Julie Aigner-Clark
Sometimes I Feel Like a Storm Cloud by Lezlie Evans
Today I Feel Silly & Other Moods That Make My Day by Jamie Lee
Lion, Lion by Miriam Busch
Raisin The Littlest Cow by Miriam Busch
Dear Zoo by Rod Campbell
We love all books. Here are just some specific authors we love:
Eric Carle
Leo Lioni
Dr. Seuss
Mo Willems
Kevin Henkes
Laura Numeroff
Miriam Busch 
Finally, we love these types of books:
Touchy, feely
Song books
"Pete the Cat" books
"There was an Old Lady" books
"Baby Faces" books – most are by Roberta Grobel Intrater
Click HERE to donate now or mail in a contribution to:
Community Action Partnership of Lancaster and Saunders Counties
210 O Street
Lincoln, NE 68508
We'd also be happy to accept new/gently used books appropriate for children age 5 and under already in your collection. They can be dropped off Monday through Friday from 8:00 AM to 5:00 PM at the address listed above.
We are also partnering with Indigo Bridge Books, A Novel Idea Bookstore, Francie & Finch Bookshop, and Hair Masters (at four Lincoln locations), which are all collecting book donations for us throughout the month of April. Donate a book at any of these locations to support Head Start! 
Questions? Contact Heather Loughman at (402) 875-9339 or hloughman@communityactionatwork.org
Thank you for helping our children develop a love of books and for reading!