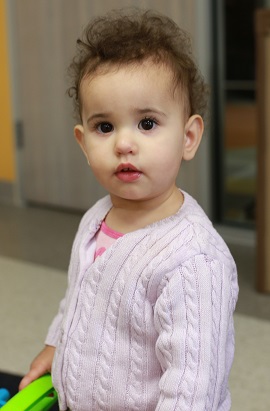 Your gift will start at-home libraries for children like Jasmine!
Do you remember the simple joy of having a book as a child? 
Perhaps you'd stay up at night with a flashlight underneath your blankets, turning the pages and studying the colorful illustrations. Or maybe you'd curl into your parent's lap – asking them to read your favorite book over and over again. From a young age, you learned that books have incredible power – the power to insight your imagination and transport you into extraordinary worlds.
But what you likely did not know as a child was how those books were impacting the development of your brain. As you heard the words, as you studied the illustrations, your brain was making the important connections you needed to learn how to read…to be ready for kindergarten.
Unfortunately, children living in poverty -- like Jasmine -- often do not get to experience the simple joy of having a book at home. And their brain development falters because of it, forever impacting their ability to achieve success.
March is Reading Month, and out goal is to raise $6,500 to start at-home libraries for each of the 255 children enrolled in our Head Start centers. Will you help? 
Here is what your gift provides:
$25 provides a sack of five books for one child
$200 provides books for all children in an infant/toddler classroom
$425 provides books for all children in a preschool classroom
Click HERE to donate now or mail in a contribution to:
Community Action Partnership of Lancaster and Saunders Counties
210 O Street
Lincoln, NE 68508
Questions? Contact Heather Loughman at (402) 875-9339 or hloughman@communityactionatwork.org
Thank you for your support!